Produced by
Theatre Royal Plymouth
Written by
Alexandra Wood
About
"A rapacious banker, corrupt, corrupting, you thought he would steal my soul"
Against all odds, young, attractive Sofia has got a job as PA to one of the wealthiest bankers in the country. Sofia's mother questions whether she gave more than just a good interview to get it…
In times of financial chaos, the bankers get filthy rich whilst others are left unable to support their families. A storm is brewing, people are desperate – just what will they be driven to? Suicide? Murder?
In a subtle game of cat and mouse, split loyalties and questionable morals, Alexandra Wood's thrilling and darkly funny new play looks at the complexities of a mother daughter relationship and, in the growing argument between rich and poor, the girl who is stuck in between.
Alexandra Wood's previous plays include an adaptation of Jung Chang's Wild Swans (Young Vic/American Repertory Theater); The Empty Quarter (Hampstead Theatre); Decade (co-writer/Headlong) and The Eleventh Capital (Royal Court).
"This is a war, us against them, the rich, the greedy: the ones that got us into this mess"
Performances
Theatre Royal Plymouth
Thursday 29th January > Saturday 14th February 2015
Reviews
"An intense episodic 80 minutes of relationships laid bare"
What's On Stage
"A thought-provoking examination of the true cost of decisions made by the men in suits"
Western Morning News
Cast
Patricia
Rebecca Lacey
Sofia
Lizzy Watts
Creative Team
Writer
Alexandra Wood
Director
Jennie Darnell
Set & Costume Designer
Matthew Wright
Lighting & Projection Designer
Jason Taylor
Sound Designer
Adrienne Quartly
Casting Director
Stephen Moore CDG
Assistant Director
Phil Bartlett
Produced by
Theatre Royal Plymouth
Written by
April de Angelis
About
I blame the books they learned to read with; Daddy at the office, Mummy looking out of the window while she's washing up. I should have burnt them.
It's Virgie's birthday and, as she turns 81, she is bucking convention with a very surprising trick up her sleeve. But always a more committed artist than mother, Virgie has not reckoned on her family and friends' determination to thwart her distinctly unusual birthday plans.
Will her loved ones consent to her last wish, or could the secrets of their past stand in the way?
April De Angelis' After Electra is a deeply moving and blisteringly witty black comedy that that re-imagines the meaning of family and explores how the choices we make can change our lives forever.
Performances
Theatre Royal Plymouth
Thursday 12th > Saturday 28th March 2015
Tricycle Theatre, London
Tuesday 07th April > Saturday 02nd May 2015
Reviews
"Director Samuel West paces the piece beautifully with excellent timing and delivery, balancing laugh-out-loud wit and comedy with passionate declamation and pathos"
WhatsOnStage
"This superb company ensure we feel an appreciation and compassion for the characters right from the start… productions like this do not come along every day."
Plymouth Herald
"The play is dark and comic and director Samuel West brings his company together like a maestro conducting an orchestra."
Western Morning News
Cast
Roy
Michael Begley
Sheila
Rachel Bell
Virgie
Marty Cruickshank
Sonia
Kate Fahy
Tom
Neil McCaul
Haydn
Veronica Roberts
Orin
James Wallace
Miranda
Miranda Eleanor Wyld
Creative Team
Writer
April de Angelis
Director
Samuel West
Set & Costume Designer
Michael Taylor
Lighting Designer
Malcolm Rippeth
Sound Designer
Adrienne Quartly
Casting Director
Stephen Moor CDG
Assistant Director
Phil Bartlett
Costume Supervisor
Christopher Cahill
Consultant Producer
Jenny Topper
Paintings
Deborah Mitchell
The Solid Life of Sugar Water
Produced by
Theatre Royal Plymouth & Graeae Theatre Company
Written by
Jack Thorne
About
Jack Thorne's The Solid Life of Sugar Water received unanimous acclaim from critics and audiences alike at the 2015 Edinburgh Festival Fringe, with The Times calling it "startlingly good".
Phil and Alice are in love. Phil and Alice are healing wounds. Phil and Alice are desperate to communicate.
Candid, uninhibited and visceral, this new play from the award winning Jack Thorne is an intimate, tender portrait of loss, hurt and recovery.
Jack Thorne's previous credits include Let the Right One In and Hope For The Stage, as well as television dramas Glue, Skins, Shameless and This is England. His new play, Harry Potter and the Cursed Child, will open in the West End in 2016.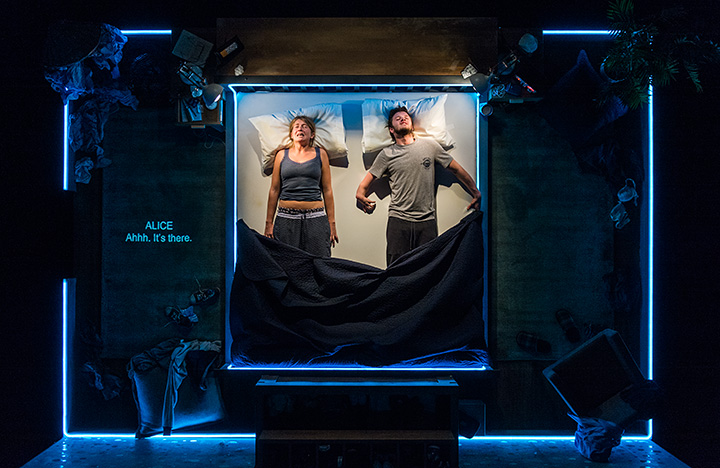 Performances
Theatre Royal Plymouth
Monday 08th > Saturday 13th June 2015
Pleasance Dome, Edinburgh Fringe
Wednesday 05th > Sunday 30th August 2015
Theatre Royal Plymouth
Wednesday 20th > Saturday 30th January 2016
Birmingham Repertory Theatre
Tuesday 02nd > Saturday 06th February 2016
Royal Exchange Theatre, Manchester
Tuesday 09th > Saturday 13th February 2016
The Dukes, Lancaster
Tuesday 16th & Wednesday 17th February 2016
Hull Truck Theatre
Thursday 18th > Saturday 20th February 2016
Cambridge Junction
Monday 22nd February 2016
National Theatre, London
Friday 26th February > Saturday 19th March 2016
Reviews
★★★★★ (The Observer, UK Theatre Web)
★★★★ (The Scotsman, The Herald, The Times, The Sunday Times, The Daily Telegraph,
The Guardian, Financial Times, The Stage, FEST, The List, ThreeWeeks, Broadway Baby,
British Theatre Guide,Time Out, The Week)
"Startlingly good… unflinching but generous. Grisly by lovely"
The Times
"Sweet and funny moments abound in Jack Throne's script. They are beautifully fielded by Genevieve Barr (Alice) and Arthur Hughes (Phil) who present every stage of the couple's relationship with warmth and disarming candour"
The Observer
"Jack Thorne's multi-layered two-hander for Graeae – about a couple grieving for their stillborn child – has no happy ever after, but is rewarding to watch… Amit Sharma's spot-on production"
The Guardian
Cast
Alice
Genevieve Barr
Phil
Arthur Hughes
Creative Team
Writer
Jack Thorne
Director
Amit Sharma
Set & Costume Designer
Lily Arnold
Lighting Designer
Ian Scott
Sound Designer
Lewis Gibson
Casting Director
Sarah Hughes
Produced by
Theatre Royal Plymouth, SKaGeN, Richard Jordan Productions and Big in Belgium
Written by
Valentijn Dhaenens
About
Much is at stake for those who have been caught in the act. It can go one of two ways: jail or freedom. Pardon / In Cuffs, the new play from Valentijn Dhaenens and the producers of BigMouth and SmallWaR, comes to the Theatre Royal Plymouth for only three performances prior to its UK premiere at the Traverse Theatre, Edinburgh.
Inspired by the documentaries of Magnum photographer Raymond Depardon, Pardon / In Cuffs reveals the complex relationship between a culprit and the justice system. Showing two opposite ends of the system, a lying, cheating criminal and a prosecutor representing society, it is the fight for the truth.
Performances
Theatre Royal Plymouth
Thursday 30th July > Saturday 01st August 2015
Traverse Theatre
Thursday 06th > Sunday 30th August 2015
Reviews
★★★★
"Sharply observed, darkly comic verbatim trawl through the police interview room"
The Stage
★★★
"This verbatim piece about prosecutors and defendants makes important points about the criminal justice system, but it's an uncomfortable theatre experience"
The Guardian
"Brilliantly performed…"
The Scotsman
★★★★
"Unusual but always intriguing."
British Theatre Guide
★★★★
"A series of playful snapshots of those vital moments between crime and punishment that tell a million stories."
Plymouth Herald
Cast
Clara van den Broek
Valentijn Dhaenens
Korneel Hamers
 
Concept
Valentijn Dhaenens
Production Assistant
Bob Cornet
Technician
Jeroen Wuyts
General Manager
Saskia Liénard
Costume Designer
Barbara De Laere
Image credit: David Van Mieghem
Produced by
A Theatre Royal Plymouth Production
Written by
Matthew Lopez
About
1865, Richmond, Virginia. In the aftermath of the Civil War, a wounded master and his two former slaves are reunited at the remains of their family home.
As the days unfold and the men battle with their pasts, they are forced to make shocking sacrifices and reveal their darkest secrets. When war has raged through a community haunted by slavery, can anyone remain truly innocent?
The Whipping Man is a powerful and enthralling play about choice, hope and what it means to be free.
Winner of the 2011 John Gassner New Play Award from the New York Outer Critics Circle.
Performances
Theatre Royal Plymouth
Thursday 17th September > Saturday 3rd October 2015
Reviews
★★★★
"Tom Attenborough's direction pitches the balance perfectly between hope and hopelessness and timing is spot on."
The Public Reviews
★★★★★
"A superb performance. A must-see."
The Cornish Guardian
★★★★
"Thought-provoking and gripping"
The Stage
Cast
Simon
Gary Beadle
John
Sope Dirisu
Caleb
James Northcote
Creative Team
Writer
Matthew Lopez
Director
Tom Attenborough
Set & Costume Designer
Francesca Reidy
Lighting Designer
Oliver Fenwick
Sound Designer/Composer
Adrienne Quartly
Movement Director
Polly Bennett
Costume Supervisor
Maïté Chemin
Judaism Consultant
Shani Erez
Dialect Coach
Simon Money
Casting Director
Stephen Moore
Consultant Producer
Jenny Topper
Medical Consultant
Dr Charles Rayne
Singing Coach
Stephen Ridley
Fight Director
Keith Wallis
Assistant Director
Chloe Mashiter
Are we not drawn onward to new erA
Produced by
An Ontroerend Goed, Spectra, Kunstencentrum Vooruit Gent, Theatre Royal Plymouth, Richard Jordan Productions and Adelaide Festival Production.
About
This thrilling and powerful visual performance from one of the world's most exciting theatre companies explores the origins and possible futures of life itself.
It's 2015 and the world is changing rapidly. Some people believe humanity is moving forward while others believe the opposite. No matter who is right, in our quest for progress we have dramatically changed the world we live in and the question of whether or not our actions are irreversible becomes all the more pressing.
Are we not drawn onward to new erA presents a visual metaphor for this crucial moment in our future history, following humanity on its path towards its downfall – or salvation?
Using live music by celebrated composer Basinski, this is the only chance to see this production in the UK ahead of an international tour. Ontroerend Goed's most recent productions include Fight Night, Audience, A History of Everything, Teenage Riot, and Sirens.
Performances
Theatre Royal Plymouth
Tuesday 17th > Thursday 19th November 2015
Reviews
★★★★
"This is one of the most beautiful, most intelligent and committed performances Ontroerend Goed has ever made, on the boundary of visual art and theatre, poetry and politics."
Knack Magazine
Cast
Karolien De Bleser
Charlotte De Bruyne
Maria Dafneros
Vincent Dunoyer
Angelo Tijssens
Jonas Vermeulen
Creative Team
Director
Alexander Devriendt
Dramaturgy
Jan Martens
Scenography
Philip Aguirre y Otegui
Costume
Charlotte Goethals
Composer
William Basinski
Arrangement
Joris Blanckaert
Lights, video and sound
Jeroen Wuyts, Babette Poncelet