Produced by
Theatre Royal Plymouth and Frantic Assembly in association with Curve Theatre, Leicester
Written by
Bryony Lavery
About
Two families are flung together on a night of cataclysmic weather. Bruised, tired and seduced by the flow of alcohol, they wrestle with their differences until, suddenly, the unthinkable happens. Something unbelievable. As their versions of what happened begin to fall apart and their perspectives become clouded by suspicion, they turn on each other in a desperate fight to understand the truth.
Frantic Assembly and Bryony Lavery follow the success of their previous collaborations (Stockholm and Beautiful Burnout) with this thrilling and highly visceral exploration of love and loss.
Performances
Theatre Royal Plymouth
Friday 21st February – Saturday 8th March 2014
Warwick Arts Centre
Tuesday 11th – Saturday 15th March 2014
Leicester Curve Studio
Tuesday 18th – Saturday 29th March 2014
The Tricycle Theatre, London
Tuesday 22nd April – Saturday 17th May 2014
Reviews
★★★★
"British theatre's most electrifying spine-chiller since The Woman in Black"
The Times
★★★★
"Starkly ethereal theatrical chiller"
London Evening Standard
"An ingenious new play that creates theatrical electricity"
The Telegraph
★★★★
"Frantic Assembly are, on the sly, one of the most influential names in the West End right now"
Time Out
Cast
Joff
Christopher Colquhoun
Maud
Penny Layden
Ollie
Richard Mylan
Marianne
Eileen Walsh
Creative Team
Writer
Bryony Lavery
Direction and Choreography
Scott Graham
Design
Jon Bausor
Associate Movement Direction
Eddie Kay
Lighting Design
Andy Purves
Sound Design
Carolyn Downing
Casting Director
Sarah Hughes
Associate Director (Tour)
Cathal Cleary
Voice Coach
Michaela Kennen
Produced by
Theatre Royal Plymouth
Written by
Chris Goode
About
He's just a lowly bureaucrat. A pen-pusher. He knows the boss's daughter is way out of his league, and he knows his deepest desires are truly unspeakable. That's just the way it has to be… until, that is, he starts to overhear the local dogs talking to each other. Suddenly he realises that all the certainties that have kept him in his place are starting to unravel, betraying a series of previously unsuspected truths that will lead him ultimately to a profound and astonishing revelation about his own existence…
Delightful, funny and bleakly beautiful; Chris Goode's new adaptation of Gogol's Diary of a Madman is a playful and relentlessly gripping journey into a world spiralling out of control. Lead by Lucy Ellinson (nominated for Best Actress at the London Evening Standard Theatre Awards for her performance in Grounded at The Gate Theatre) MAD MAN retains all of the original story's timeless capacity to startle, confound, disturb and delight.
Performances
Theatre Royal Plymouth
Thursday 20th March - Saturday 5th April 2014
Reviews
★★★★
"Cartoonish and careering, this play constantly bursts its frame with dance sequences, while Lucy Ellinson's Pushpin is extraordinary"
The Guardian
★★★★
"Fast, fun and thrillingly original"
Exuent Magazine
"Ellinson is outstanding in the role; her performance had the audience experiencing every kind of emotion, from roaring laughter to genuine fear"
The Knowledge
★★★★
"Ellinson's engaging voiceovers and wry commentary, tremendous timing and facial expression draws us into a mundane world turning on its head and slowly disintegrating"
WhatsOnStage
"The production explodes with dramatic surprise"
Plymouth Herald
Cast
The Director
Nigel Barrett
Secretary
Gemma Brockis
Pushpin
Lucy Ellinson
Clerk
Gareth Kieran Jones
Creative Team
Writer, Director and Sound Designer
Chris Goode
Set and Costume Designer
Janet Bird
Lighting Designer
Katharine Williams
Assistant Director
Jennifer Tang
Produced by
Theatre Royal Plymouth, SKaGeN & Richard Jordan Productions Ltd
Written by
Valentijn Dhaenens
About
Valentijn Dhaenens returns to the Theatre Royal Plymouth with SmallWaR, set in 1914 in a field dressing station behind the front lines.
Dhaenens as a nurse, maintaining a watchful vigil with her patients, discovers, confronts and observes. In turn, Dhaenens is confronted by simultaneous digital versions of himself, as a series of combatants arise from the shadows.
Set against an impressive video matrix by the installation artist, Jeroen Wuyts, SmallWaR tells its stories in the words of those who were there, those who led the way, and those who followed.
"When clean little lives, when clean little souls boil up in the backwash, they will consolidate, after the final war, into a peace that shall endure… but not till then. By examining the things cast up in the backwash, we can gauge the progress of humanity"
– Ellen Newbold La Motte, American nurse in a French field hospital.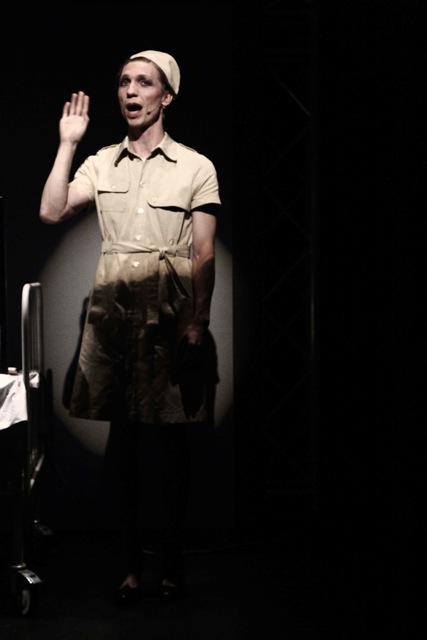 Performances
Theatre Royal Plymouth
Thursday 24th - Saturday 26th July 2014
Traverse Theatre, Edinburgh
Tuesday 2nd – Saturday 13th September 2014
DeSingel, Antwerp
6th & 7th February 2015
Adelaide International Festival, Australia
2nd - 4th March 2015
Tour of Belgium and the Netherlands (across 34 venues)
19 September 2014 – 11 April 2015
Reviews
★★★★
"A haunting and beautiful multimedia exploration of the horrors of war"
The Telegraph
★★★★
"Drawn from the testimonies of soldiers through history, the play exposes how brutally war dehumanises"
Financial Times
"Explosive in its quiet intensity, SmallWar is a theatrical powder keg packed with innovation and raw emotion"
The Herald
★★★★
"A haunting, compelling hour"
WhatsOnStage
Cast
Valentijn Dhaenens
Creative
Video, Set and Sound design
Jeroen Wuyts
Produced by
Theatre Royal Plymouth & Paines Plough
Written by
James Graham
About
A bold new play by James Graham, writer of sell-out smash hits This House and Privacy.
"Its government has declared a vicious class war.
A one-sided war…
We have started to fight back…
…with bombs."
Against a backdrop of Tory cuts, high unemployment and the deregulated economy of 1970s Britain, a young urban guerrilla group mobilises: The Angry Brigade.
Their targets: MPs. Embassies. Police. Pageant Queens.
A world of order shattered by anarchy; the rules have changed. An uprising has begun. No one is exempt.
As a special police squad hunt the home-grown terrorists whose identities shocked the nation, James Graham's heart-stopping thriller lures us into a frenzied world that looks much like our own.
Performances
Theatre Royal Plymouth
Saturday 4th – Saturday 11th October 2014
Oxford Playhouse
8th – 11th October 2014
Warwick Arts Centre
14th – 17th October 2014
Watford Palace Theatre
21th – 25th October 2014
The Bush Theatre, London
30 April 2015 – 13 June 2015
Reviews
★★★★
"Memorably adventurous…a timeless depiction of young people agitating against a world that appears to exclude them."
The Times
★★★★
"Thrilling, exciting, unpredictable… James Graham marches triumphantly onwards."
Evening Standard
★★★★
"An explosive account of ideological war... what emerges is a world with chilling similarities to our own."
The Guardian
Cast
Henderson and Anna
Patsy Ferran
Hilary, Girlfriend, Parker, The Expert and Miss World
Scarlett Alice Johnson
Morris, Commander, Prophet, Snitch, Manager and Jim
Harry Melling
Smith and John
Felix Scott
Creative Team
Writer
James Graham
Direction
James Grieve
Design
Lucy Osborne
Lighting
Charles Balfour
Sound
Tom Gibbons
Movement Director
Polly Bennett
Assistant Director
Hannah Bannister
Re-Lighter
Garry Hoare
Produced by
Theatre Royal Plymouth
Written by
Carl Grose
About
1903. Paris, Montmartre and the Theatre du Grand Guignol opens its doors to an unsuspecting public. The plays, rife with madness and murder, are sold out every night to an awestruck public, avid for the horrors that are nightly set before them. But when a psychiatrist, obsessed with the gruesome dramas, ingratiates his way into the company and starts to unpick the author's mind, the boundaries between theatre and truth begin to blur…
A black comedy, a demented, psychological thriller and an unrepentant splatter-fest, Carl Grose's play is a head-spinning, genre-bending phantasmagoria, guaranteed to keep you guessing – and wincing – to the very last horror show...
Performances
Theatre Royal Plymouth
Thursday 9th – Saturday 18th October 2014
Southwark Playhouse
Thursday 23rd – Saturday 22nd November 2014
Reviews
"Grand Guignol thrills, nauseates and delights"
Karen Bussell, Western Morning News
"… a rollercoaster ride on which you're never quite sure what is going to happen next, or whther to laugh or shudder… but what fun!"
Bill Stone, The Herald
Cast
Professor Tarr, Andre De Lorde, Dr Gorlitz, One-Eye
Jonathan Broadbent
Jean, Chief Guard, Ratineau, De Mora, Phillipe, Joshua, Hunchback
Paul Chequer
Dr Alfred Bint
Matthew Pearson
Henri, Paulais, Dr Marbois, Charrier, Gateaux, Nikolai, Normandy Witch
Robert Portal
Nurse Fether, Second Guard, Maxa, Sonia, Veronique, Claire, Louise
Emily Raymond
Max Maurey, Edgar Poe, Level, The Sister
Andy Williams
Creative Team
Director
Simon Stokes
Designer
Alex Doidge-Green
Lighting Designer
David W. Kidd
Sound Designer
Adrienne Quartly
Fight Director
Malcolm Ranson
Casting Director
Stephen Moore CDG
Consultant Producer
Jenny Topper
Assistant Director
Phil Bartlett
Translation of original scripts
Anthony Wise
Produced by
Theatre Royal Plymouth
Written by
DC Moore
About
When Earth is the loneliest planet, where else is there to go?
Paul is a specialist in cognitive behaviour, tasked with designing a 20-year mission to Mars. Daniel is a husband and new father struggling with the reality of marriage and the monotony of everyday life. Natalia is a twin sister, disillusioned by the world's obsession with space travel and sorry that she didn't say goodbye. And Amy asks a lot of questions…
Following his critically acclaimed The Empire at The Royal Court (a Theatre Royal Plymouth co-production), and The Swan at The National Theatre, DC Moore's Another Place is a compelling play about our obsession to uncover the secrets of space, and the tragedy of what we leave behind. Full of dark humour, razor-sharp wit and intricately portrayed characters, this is a gripping play about what it means to be human.
Performances
Theatre Royal Plymouth
Wednesday 12th – Saturday 22nd November 2014
Reviews
★★★★
"Engrossing and spikily stylish"
The Times
"A bleakly poetic new play by DC Moore with shades of science fiction"
The Stage
"The dialogue zings with humour, intelligence and subtle subtext"
Exeunt
"Total blackouts, and scene-change sound that vibrates the rib cage, add to the sense of another place as if we too, had been transported into alien territory"
The Herald
Cast
Amy
Leah Brotherhead
Natalia/Nina
Anna Elijasz
Paul
Rob Heaps
Daniel/Andrei
Robert Lonsdale
Creative Team
Director
Jo McInnes
Set and Costume Designer
Garance Marneur
Lighting & Projection Designer
Chahine Yavroyan
Sound Designer
Gregory Clarke
Casting Director
Lotte Hines
Assistant Director
Phil Bartlett
Produced by
Ontroerend Goed, Vooruit, Theatre Royal Plymouth, Richard Jordan Productions Ltd
Written by
Karolien De Bleser, Charlotte De Bruyne, Majan Deschutter, Aurélie Lannoy, Anemone Valcke and Verona Verbakel
About
Sirens, a feminist manifesto for the 21st century.
Sirens is written – and performed – by six young women, members of the internationally renowned Belgian company, Ontroerend Goed.
It is their heartfelt, yet irreverent, feminist manifesto for the 21st century.
They describe a new journey of contemporary femininity: their expectations, persisting inequalities, hard-fought rights, self-censorship and everyday abuse.
Cooperating like a musical sextet, they scream, laugh, sing, speak and cry their way through their experiences as women in the modern Western world, with new-found joys and liberties. They've taken control of their lives, expression and appearance and moved on, past militant anti-male rage to the hope that men can be just as feminist as they are.
Sirens – six young women, both alluring and alarming. The stage is theirs.
Performances
Theatre Royal Plymouth
Monday 24th – Saturday 29th November 2014
Vooruit, Ghent, Belgium
17 – 19 April 2014
KC Belgie, Hasselt, Belgium
25 & 26 April 2014
Arenbergschouwburg, Antwerp, Belgium
29 April 2014
STUL, Leuven, Belgium
30 April 2014
Theater aan Zee, Belgium
30 & 31 July 2014
Summerhall, Edinburgh
12 – 24 August 2014
Minardanschouwburg, Ghent, Belgium
23 & 24 September 2014
Soho Theatre, London
2 December 2014 – 4 January 2015
CC Knokke-Heist, Belgium
5 December 2014
Jersey Arts Centre, St. Helier
27 - 28 January 2015
Reviews
"It's the unexpected juxtapositions that make this beautifully put-together show so startling and so thought-provoking. Big, bold, brazen, and not a hussy in sight. Only real women asking what it means to be a feminist."
Lyn Gardner, The Guardian
★★★★
"It develops into a kind of beautiful howl of modern womanhood that echoes long after the cast leaves the stage"
The Independent
★★★★
The Stage
★★★★
"A bold critique of everyday sexism"
WhatsOnStage
Cast
Karolien De Bleser
Charlotte De Bruyne
Majan Deschutter
Aurélie Lannoy
Anemone Valcke
Verona Verbakel
Creative Team
Director
Alexander Devriendt
Written by
Karolien De Bleser, Charlotte De Bruyne, Majan Deschutter, Aurélie Lannoy, Anemone Valcke, Verona Verbakel
Dramaturgy
Joeri Smet & Mieke Versyp
Stage Design
Sophie De Somere
Costume
Manu Verschueren
Photography
Stine Sampers
Composition
Joris Blanckaert
Technique Creation
Jasper Taelemans & Elke Verachtery